Proving that Codestone and Clarivos are a winning 1+1=3 team, the SAP cloud powerhouse has scooped up no less than five major awards at the 2022 SMB Innovation Summit dedicated to SAP SME and Mid-Market businesses. Beating over 100 North EMEA region and UK partners and with over 800 attendees present, Codestone was named #1 SAP Business One and Clarivos #1 SAP Business ByDesign Resell and Delivery Partner. Codestone and Clarivos together have won SAP Partner awards in the following categories:
#1 Business One by Revenue EMEA North – Codestone
#1 Business ByDesign by Revenue EMEA North – Clarivos
#1 Business One by Revenue UK – Codestone
#1 Business ByDesign by Revenue UK – Clarivos
#1 Business ByDesign Strategic Sales Performance EMEA North – Clarivos
The annual EMEA North Awards' winners are chosen from SAP's wide-ranging partner base of over 100 partners across 11 countries, with nominations based on SAP's internal sales data and other numerous criteria such as customer satisfaction, sales achievement and performance.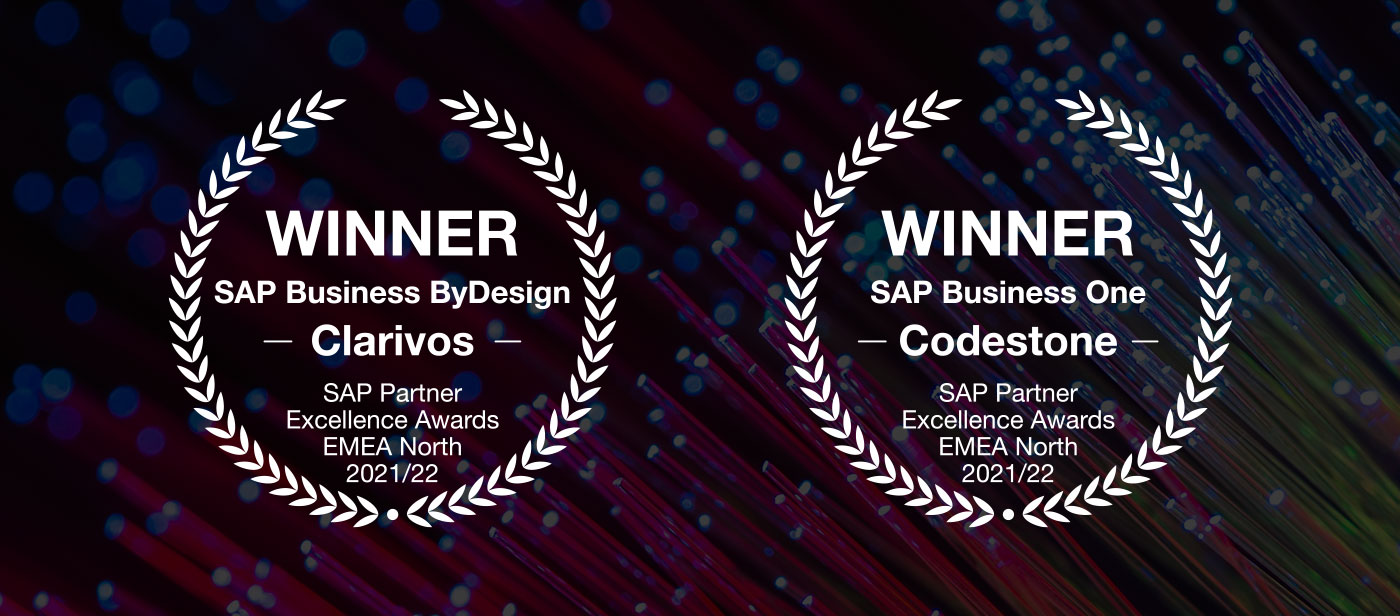 Codestone's acquisition of Clarivos in May 2022 was driven by its cloud-first approach to help customers gain rapid results by running better with cloud solutions and adopting innovative technology. Winning these significant awards reinforces Codestone's vision of a true SAP cloud powerhouse partnership across the UK and EMEA region.
Jeremy Bucknell, Co-Founder & CEO, Codestone Group highlights,
The SMB Innovation Summit is the leading event on the SAP SME and Mid-Market Businesses calendar for partners, aiming to help companies understand how they can become intelligent and sustainable enterprises in the cloud. Our integration with Clarivos supports the SAP strategy as we continually invest in our own business to deliver expertise, innovation and value to our SMB customers. We are therefore delighted to be recognised by SAP by winning these prestigious SAP Partner Awards.