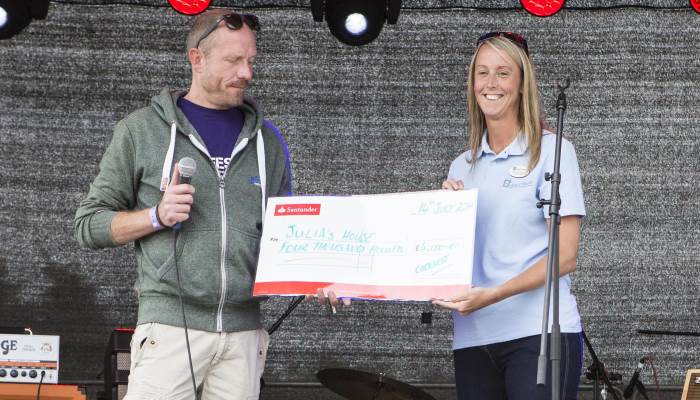 We're delighted to announce that Codestone has raised over £8,000 for charity through our sixth annual 'Codefest' charity music festival, the highest total the event has raised to date.
Organised and paid for exclusively by Codestone just for our 105 staff members, their family and friends, Codefest is a not-for-profit weekend-long festival featuring local bands, plus locally-sourced food and drink and children's entertainment.
Rather than selling tickets, we simply ask employees to make a charity contribution as the cost of their admission.
Codefest takes place at Longthorns Farm campsite near Wareham, which generously lends its site to the event in support of our two chosen charities. Julia's House, which will receive 70 percent of the £8,016.25 raised, is a children's hospice charity based in Dorset and Wiltshire.
The remaining 30 percent will go to Project Luangwa, an education sponsorship programme in Zambia. Since the first Codefest festival in 2012, we've raised over £30,000 in total for these two charities.
As well as generating invaluable funds for charity, Codefest acts as a hugely anticipated reward for our team and offers an opportunity for directors, management and staff to enjoy a relaxing family weekend away from work.
This year's event headliners, Coldplay tribute act Viva la Coldplay and International Gatsby party band, were joined by a full line-up of local bands and artists. Food and drink vendors, as well as providers of the craft tents, face painting, henna tattoos and bouncy castles, were all chosen for their local credentials.
Chairman and CEO, Jeremy Bucknell, says, "Now in its sixth year, Codefest has become a real passion for our team, one of the highlights of summer and tickets go quicker and quicker each year. The ethos is simple, whilst we're very passionate about what we do at Codestone, every now and then you need to get back to basics – switch off, kick back and relax with your people.
"And what better way to do that than a beautiful field in the Dorset countryside with colleagues, friends and family, listening to real music and supping your favourite beverage (and raising much needed funds for great causes into the bargain)."
"It's really important to us that Codefest supports businesses in the Dorset area," says People and Payroll Assistant Caroline Downing, who manages the organisation of our annual festival.
"Most of them offer their services at reduced rates as they know the event is for charity, and many of them know of the incredible work Julia's House does."
"Codefest is a fantastic event, the team look forward to it all year long and knowing we are raising so much money for great causes makes it even more enjoyable."
The music festival isn't the only way we support our staff in charitable giving. Every member of the team is given a yearly sponsorship allowance by the company, which they can put towards personal fundraising projects such as running a marathon or completing a cycling challenge.
"We're immensely proud of our fundraising record at Codestone", says Caroline. "Not only does it boost a sense of unity within the company, we find it's a huge source of added value for our employees."