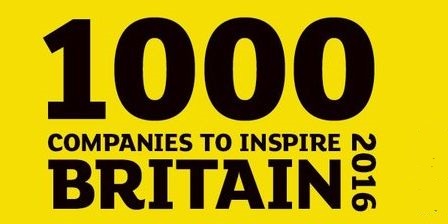 Codestone is delighted to be recognised by the London Stock Exchange Group (LSEG) and included in their Top 1000 Companies to Inspire Britain 2016 List.
Produced by the LSEG the '1000 Companies to Inspire Britain' is an annual celebration of some of the fastest-growing and most dynamic small and medium-sized enterprises (SMEs) in the UK.
"It is a great honour to be recognised as one of the companies to inspire Britain" commented Jeremy Bucknell, Chairman and CEO, Codestone. "At Codestone our aim has always been to help our customers unlock their full potential; being successful at doing this can only be a positive for the UK economy."
When LSEG launched this project in late 2013, their desire was to shine a light on what they strongly believe – that these companies are the engine of the UK economy. The companies that have been highlighted in the 2016 list are not just those who have shown revenue growth over the past four years, but have also outperformed their sector peers.
Codestone is an award winning SAP & Cloud Services Company with global coverage. They help their customers by providing fully-managed enterprise class IT infrastructure from the cloud and delivering market leading SAP based ERP that allows them to maximise the true potential of their business.
To find out more please visit our website or contact the Codestone team on 0370 334 4000.