Optimised production and stock holding with SAP Business One brings operational efficiency to Star Tissue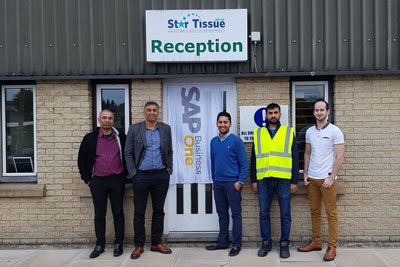 Star Tissue, one of UK's leading independent manufacturers of hygiene paper products, has gone live with SAP Business One. The SAP HANA database is hosted on SAP Business One as a Service with integrated Add-on Codescan as the warehouse scanning solution. With the addition of Codeless BPA Star Tissue can now automatically create purchase orders for transport costs, together with the Boyum Usability Pack Add-on for SAP Business One which enables pallet calculations based on weight and volume.
Prior to implementing SAP Business One, disparate systems and repetitive processes were creating a number of efficiency challenges for Star Tissue and business growth was a real issue. Codestone worked collaboratively with Star Tissue to deliver a business management solution that will enable it to integrate and automate its business functions, optimise production efficiencies and provide a platform for growth.