Last year unsurprisingly saw a significant rise in the usage and demand for mobile capabilities. Along with a huge shift towards cloud computing, it looks like mobile will be setting the agenda for many businesses owners and their IT departments in 2014. We've picked eight key areas of technology that we think will be dominating the year ahead.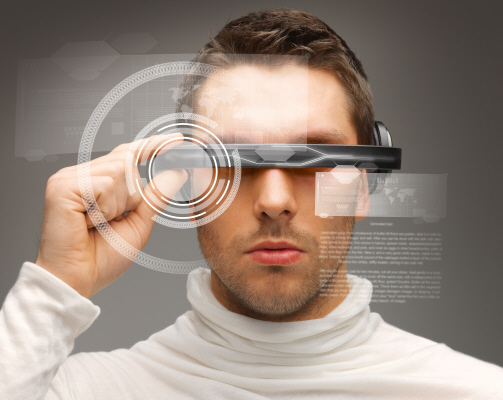 1. BYOD & Mobile Device Management (MDM)
The proliferation of mobile devices into the workplace and the rise in demand for BYOD has created a scenario that many IT managers and business owners hadn't really planned for. With devices connected to company networks, providing access to large amounts of sensitive data, the challenge for you is how to actually manage all these devices and apps without having complete control. 2014 will more than likely see a massive rise in demand for mobile device management (MDM) and enterprise mobility management (EMM) software, with many organisations adopting a secure, well thought out BYOD strategy that will provide the freedom demanded by employees whilst ensuring control and security in a way that's simple to manage.
2. Cyborg Society
Wearable computing is going to be one of THE buzz topics this year, with many entrepreneurs and businesses looking to develop and produce innovative new products following in the wake of Google's networked glasses, Google Glass, and Samsung's smartwatch, Galaxy Gear. Recent trade shows (CES) have already outlined a number of innovative new developments and Juniper Research predicts that 130 million wearable devices will be deployed by 2018. Human interaction with devices, such as biometrics, motion sensors, facial recognition and eyeball tracking, is also going to be an area that is likely to develop, with Apple's iPhone 5S Touch ID fingerprint recognition system paving the way last year.
3. Mobile Cloud Storage Wars
We appear to be entering a post PC era, with many consumers favouring mobile devices such as smartphones and tablets. These devices are generating a large amount of data – such as photos and videos – that users not only need to store somewhere, but also wasn't to be able to access at any time. As a result, this is driving the demand for cloud storage and personal clouds, which is set to explode in 2014. According to Gartner, just 7% of consumer content was stored in the cloud in 2011, but this will grow to 36 percent in 2016. Dropbox has been at the forefront of this market, but with demand steadily increasing the likes of Google, Amazon, Apple, Microsoft, and a host of other smaller companies, are gearing up to cash in on this potentially lucrative business. Let the storage wars commence.
4. SME ERP Adoption
With increasing demand for interaction and collaboration between application suites for business streamlining, the adoption of ERP software solutions by managing directors and finance directors within small and mid-size organisations will continue to grow in 2014. As vendors begin to focus and launch of modern, flexible cloud-based systems, such as SAP Business ByDesign, it is now making this a viable proposition for SMEs.
5. Data Privacy
Edward Snowden's contentious revelations about the NSA last year revealed a web of secrecy and spying that affected everyone around the globe, no matter who you were – from a small business in Devon to the head of one of Europe's most powerful countries. It obviously generated public outcry having exposed the fact that data was not as secure as once thought. With major technology companies, especially ones that store vast amounts of data, susceptible to investigation and prying, data privacy is going to be a massive issue this year. Many organisations will be reviewing the systems they have in place and looking for a solution to protect their integrity
6. Enterprise Apps
Once again, the mobile enterprise is driving the focus and strategy for organisations, as your users demand apps and a working environment that improves their workflow and productivity. Developers will need to produce apps that can straddle a number of different devices as well as integrate with a number of different systems. Many organisations and vendors will also be looking to develop bespoke add-ons and apps that exploit the power of centralised business systems. With apps easy to develop and less expensive than larger applications, this scenario is set to grow as companies look for niche solutions to address business issues and exploit new opportunities. Gartner predicts that through 2014, improved JavaScript performance will begin to push HTML5 and the browser as a mainstream enterprise application development environment.
7. Hybrid Clouds
There is growing consensus that 2014 will experience enterprises shifting operations to a hybrid cloud model. As Joe Baguley, chief technology officer EMEA, VMware pointed out to the Guardian: "A true hybrid cloud should enable businesses to extend their data centres into the public cloud using the tools and processes they're used to, while ensuring they can scale up or down and flex in and out as market opportunities and, crucially, regulations dictate. Businesses will finally be able to separate the IT functions they need to differentiate, while commoditising everything else, and manage them both in exactly the same way." Codestone already subscribe to this model and has realised both financial and operational benefits to its customers.
8. As-a-Service Platforms
The constantly changing and rapid development of new technologies means that financial directors within organisations cannot afford to invest huge CAPEX into hardware and software solutions for fear of being left behind. Many will therefore be looking to as-a-Service solutions to make sure that their business is flexible enough to adapt quickly to changing environments and new opportunities – especially with so-called signs of recovery beginning to emerge. Gartner predicts that 20% of spending on new technologies will be on fully integrated as-a-Service platform solutions by 2018.