Aphix & Codestone come together to offer future ready digital ordering solutions for SAP Business One companies across the UK
Award winning companies Aphix and Codestone team up to provide SAP integrated eCommerce, Mobile apps, eProcurement and more.
With over two decades of experience, SAP Gold Partner, Codestone was recently awarded the position of top SAP Business One and SAP Business ByDesign reseller in Northern Europe.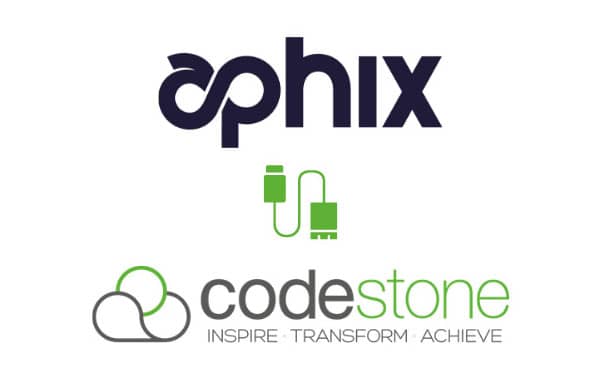 Aphix helps companies to sell smarter with more than 290 clients and over 7 million users worldwide regularly using it's integrated SaaS digital platform.
Aphix and Codestone both have a successful track record working with companies in the wholesale, distribution and manufacturing spaces and understand the unique challenges these companies face.
With an ever increasing demand for scalable digital solutions that need to not only work in conjunction with SAP Business One, but also offer future ready products for growing companies, Codestone recognises the immediate advantages of the Aphix Digital Platform for their customers.
The Aphix Digital Platform for SAP offers real-time integration with SAP Business One and a suite of digital ordering products ranging from eCommerce, Customer and Supplier Portals, Sales & Customer ordering apps, Order Punchout and more.
Codestone customers can now seamlessly integrate their SAP Business One system with the Aphix Digital Platform and choose which products to implement as and when they need them, future proofing their digital needs.
This digital transformation helps companies improve customer service, reach new markets, reduce complexity and increase their business efficiency as a whole. And as a SaaS (Software as a Service) platform all users are always up to date with the latest version.
Aphix CEO Graham O'Rourke is excited about the opportunity to work with Codestone,
At Aphix we are really excited to work closely with Codestone as one of the biggest SAP Business One partners in the world. With a shared understanding of companies in the wholesale, distribution and manufacturing sectors, Aphix and Codestone now have the opportunity to help these companies get on a successful path for digital transformation.
Codestone COO Dan Hobson added "At Codestone we are very pleased to add the Aphix range of ecommerce solutions to those we have available for SAP Business One. Aphix have a strong set of products with their ecommerce suite for B2B, B2C and D2C sales, and mobile apps for field and van sales, together with eProcurement options helping to make our customers even more successful in this fast changing and expanding market."
Aphix Bio:
Aphix has developed a suite of eCommerce, mobile ordering and eProcurement products with real-time integration to ERP and back-office systems plus connectivity to various digital marketplaces on one secure and robust platform. Our mission is to help companies sell smarter using the Aphix Digital Platform.