Honesty and focus: two of the principles from ocean racing that impact effective communication when working remotely.
Codestone is a proud sponsor of Pip Hare, elite athlete and skipper who is currently training to sail around the world alone in a high-performance racing yacht, through some of the most isolated and remote environments on the planet.
As a technology partner that is at the forefront of business continuity solutions, Codestone is helping customers to adapt to the current crisis and help organisations continue to work on projects remotely. This is made possible thanks to today's new technologies.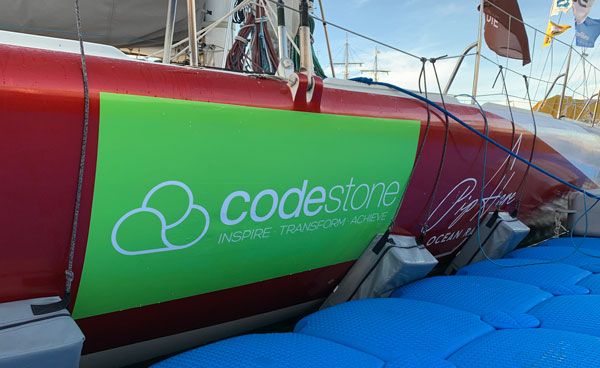 Communication is vital to the success of any endeavour– especially when you are in extreme conditions and alone at sea. We spoke to Pip to find out what we can learn from her experience of communicating with her team and the different race event stakeholders to guarantee the success of her race. She gave us some unique insights into how she manages when alone at sea. There is a lot we can learn from her experience and approach as she prepares for 3 months of extreme isolation – and risk.
Managing communication in a race around the world
"When I race around the world in November this year, I will be navigating my 60ft IMOCA, alone, through the most remote waters in the world. It is said that at some points in the Southern Ocean I could be nearer to another human being on the International space station than on any terrestrial landmass. This is extreme geographical isolation, but I will not be alone. Alongside me will be 33 fellow international competitors and overseeing us all will be the Race Committee at their HQ in France. On the shore, I will have my team, watching my progress and ready with support.
The race will be managed remotely by the Vendee Globe Race Committee. They are responsible for adherence to rules, crisis management and for sharing interactive and engaging race coverage with the outside world. A huge part of the Race Committee's risk management strategy is a solid and regular communications process. It is only through direct communication with each of the 34 skippers that the Committee is able to build an accurate picture of what is happening on each of the boats and use this information to tell the story of the race, keep audiences engaged, forecast and mitigate problems before they escalate and in the worst-case scenario coordinate rescue and recovery.
Many of us world over are settled into an extended period of staying at home, and businesses are now adapting to managing remote workers. I thought it would be interesting to compare how the Race Committee and shore teams manage communication with skippers while we are racing, and how as skipper I separate and manage my comms when time is limited – and voice call cost £5 per minute.
Daily check-ins – the drumbeat
The drumbeat of this communication is the daily check-in. This can be done by phone and via text or email. It's a scheduled communication to establish my welfare, to get the 'heads up' for any problems I may see arising in the future.
The Race Committee will check in regularly with all sailors on the water for the entire duration of the race. It allows them to 'health check' the fleet and to build a picture of how the race is developing and what might happen next. This will be used to direct external communications and to provide vital information for forwards planning and risk management.
I choose to check in with my shore team once a day by phone. We schedule the calls one week in advance, to reflect the time zone I am travelling through, and ensure we are both ready for the call.
I manage routine voice calls on two basic principles: honesty and focus.
#1 Honesty
Both my team and the Race Committee rely on me to tell the truth about the situation on board every time I check-in. From a risk management point of view, it is better for the Committee to know that I had a problem and fixed it, than for a problem to escalate.
#2 Focus:
Quite often, there will be little time to convey information. The satellite signal may be weak, or something may happen on the boat that requires immediate attention. In these situations, we need focussed and efficient conversations. The objective of the call is to establish my welfare and the current status conditions on board; this is always done in the first few minutes of the call. My team have set questions to ask, and once this is finished, we can move onto 'any other business', which adds colour to the picture. At times when I am not able to stay on the call, I can confirm everything is ok, then add information later by email or text message. We use messaging systems such as What's app to great effect via satellite. The ability to send photos, videos, voice recordings and text messages takes a lot of the leg work out of sharing information quickly and simply.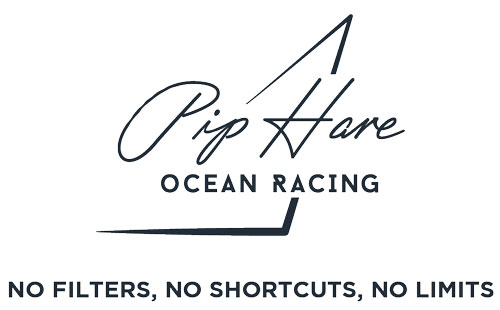 Reporting Problems
Race Control will be watching our trackers for 24 hours a day and monitoring weather forecasts. Experts predict the routes any competitor might take, allowing for the age of the boat and the current status of skipper and vessel. Our performance will be monitored, and any unexpected course changes or drops in speed will raise a flag to Race Control. If I don't check in to explain drastic changes in performance, the Race Committee will try to call me and contact my shore team to see if they have any information.
It is down to me to report to the Race Committee any problems on board that affect my performance – this can be done directly by me or relayed through my shore team. Once reported, the Committee will assess the level of risk and advise a further communication plan going forwards that involves the shore team.
I will inform someone ashore of any actions I intend to take that will involve and increased personal risk during the race. Examples of this could be climbing the mast, the need to go over the side of the boat to check for damage or make repairs, or if I am ill and need to self-administer first aid or medicine. In this event, I will report both to my team or the race doctor. I will tell them what I intend to do and how long I expect it to take and we will agree a schedule of communication going forwards. It is my job to stick to it, reporting progress and confirming all is ok. Failure to communicate, either for me to answer, or to make a scheduled call, will be considered as an escalation of the situation.
Crisis Management
Communication between my boat and the shore changes very little when a problem is escalated to 'crisis' level – there is simply more of it. However, when a crisis occurs, we need to communicate more widely to include:
Other competitors: Those within close geographical range may need to be alerted and on standby to provide help if necessary.
Rescue Services: In extreme cases, Race Management will need to work with Maritime Rescue Co-ordination centres to divert rescue services or commercial shipping to help.
The Media: Details of any emerging crisis will need to be communicated in an appropriate way to the press, with content and timelines agreed both by the Race management PR team and the PR teams from my own team and sponsors. At the start of the race there will be a crisis management protocol in place, nominating the individuals who will be notified and consulted in the event of a crisis.
Problem-solving: remote help
Despite being single-handed, I am allowed to receive help and advice to fix problems on the boat. This advice is limited to the fixing of equipment or medical support, but it cannot stretch to performance-related advice. When I have a problem that I am not able to fix on my own, I will reach out to my shore team and network to help me find a solution. Satellite data and call charges are expensive, so it is important for me to be precise and concise in my communications. Before reaching out for help, I consider the following:
Speak to the right person
Who is the best person to speak to about this problem? Who is an expert in this piece of kit or type of repair? Who has experience or understands the limitations of working alone on a moving boat? Do they know what tools I have available? I may need to speak with more than one person, but the responses must be coordinated to avoid going over the same ground or create a conflict of instructions.
Preload information
What information can I collate and send to help them understand the situation?
I like to 'preload' information before making a call. I will use videos, photos and will normally set out my issues in an email. This way, I can ensure all information is given and can be understood before I speak in person to anyone, including information about what I have already tried or my own hypothesis for a solution.
Timing
I need to set out my timeline, including expected response times from the team. This considers the rate at which a problem is escalating, current weather, other immediate issues in my own environment, business hours to get hold of experts in different places around the world, and daylight hours if this is important to my work. Once initial contact has been made, the team will set out a schedule of comms to help manage a quick solution and ensure I do not miss a call.
Escalation
Once again this is down to me to report. If damage starts to get worse, or if I am ill or injured and other symptoms develop, I must communicate any escalation to the team ashore to ensure everybody is working from the most up-to-date information.
Problem Solving: emotional support
Being alone is something I am very comfortable with. I actually enjoy it, and when I am absorbed in the everyday business of sailing my boat, I don't often feel the need to chat. That said, there is something very comforting in knowing that another human being is there to listen to me after a particularly hard day, when facing disappointment or when I am scared.
This type of communication is less structured; it's a getting-it-off-your-chest offloading of emotion. I don't need or want to speak with an expert at these times. Instead, I will choose one or two people to speak to when I need to offload. The importance here is that the person at the end of the phone is able to understand the context of my situation and won't panic if things sound bad. Sleep deprivation has a massive impact on emotional response. Things that are said during an 'in-the-moment' outpouring may seem entirely irrelevant after a 30-minute catnap and a hot cup of tea. Often a response is not needed, just an ear to listen. It's a tough job to be this person at the end of the phone. It's exhausting to hear someone else's problems and hard to know whether to be concerned or frightened on my behalf. It is important that my 'emotional support' person is able to stay calm, has broad shoulders and know who to talk to should they have any genuine concerns.
I don't often feel the need to reach out in this way. Many of my previous races have been communication free, with no contact allowed between shore and boat so I have had to adapt. When communication is allowed, I am often restricted by budget – so lengthy satellite phone calls were out of the question.
When I am struggling emotionally, I try to write things down. I'll write an email to an unknown recipient detailing why I am struggling, getting it all down on paper. More often than not, by the time the email is written, I no longer feel the need to share it. Somehow the action of writing it down then reading it makes everything feel less oppressive. It allows me to gain perspective and to work through my own emotions alone.
I know that the Vendee Globe is going to push me harder and further than ever before. I have no doubt that sailing in the Southern Ocean alone will be terrifying. Three months at sea will be the longest I have ever been alone; and so, despite my learned self-reliance, I fully expect I will need this emotional support during the next race.
Sharing the good times
In order for our race to be successful, we need to share the story in a consistent and engaging way throughout the entire duration of the race. A vital part of my job afloat is to get my story off the boat. This will be communicated through video, written pieces and in telephone interviews. This type of communication is uniquely me. I will be trying to share my experience in a way that can be understood by everyone. Yes, I am a sailor taking part in an elite sporting event, but I am also a human being. Alone for three months, sleep-deprived, pushing myself physically and mentally, dealing with the challenges alone, being knocked down and getting back up again, smiling, laughing, crying – these are all experiences we can relate to – and this is what I intend to share."
In these challenging times, Pip reminds us that to achieve progress, its important now more than ever to stick to your objectives, focus on the priorities, adjust the plan where necessary and keep a positive mindset at all times. We look forward to following Pip as she uses this time to prepare for the exciting Vendee Globe challenge on 8th November 2020.
If you have an active project or are just about to start one, talk to us about how we can work together to make it a success. With a successful remote working model already in place, we continue to support and deliver services effectively for all of our customers.