Codestone Becomes an Official Partner of Pip Hare Ocean Racing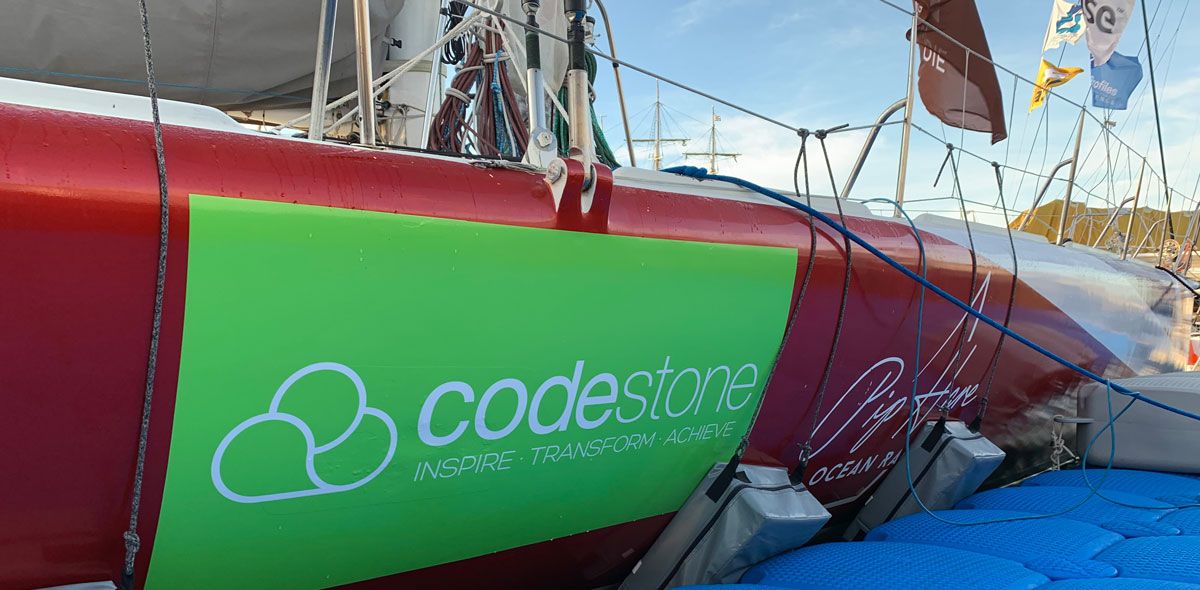 Codestone is sponsoring Poole based British yachtswoman Pip Hare as she prepares to sail single-handedly in a 60-foot high-performing racing yacht in the Vendée Globe 2020. Since 1989, only seven women have ever taken part in this race. With over 10 years of preparation in her wake, Pip is racing with the ambition to break the current female record in 71 days, 14 hours and 18 minutes.
The race which takes place once every four years is nicknamed the 'Everest of the Ocean' and is considered the world's toughest solo yacht race. Sailing out of Vendée, France – an elite group of yachtsmen and women will compete, without assistance and without stopping, to become the fastest to sail 21,638 miles and circumnavigate the globe.
This exceptionally exciting course takes the racing yachts south down the Atlantic and then east round the Cape of Good Hope, across the Indian and Pacific oceans and southern seas, before returning round Cape Horn and back up the Atlantic to Vendée. The racers will have to contend with all kinds of wind and wave conditions as well as ice and a host of unpredictable weather systems. It's just the kind of challenge that resonates with Codestone!
Dan Hobson, Codestone CCO and someone who enjoys sailing himself explains:
"The partnership with Pip Hare aligns closely with our culture which is centred around our Inspire, Transform, Achieve ethos. Sponsoring women in extreme challenges and sport has become something of a focal point for us. We were sponsors and technology partners to the cross-Atlantic 'Row like a Girl' challenge, the extreme Rum Wadi desert race for 'Run like a Girl', and more recently the Bournemouth Rugby Girls team.
We tend to gravitate towards challenges in which women are looking to achieve the extraordinary – typically these are sporting events where women are generally not well supported – nor given the profile they deserve. We want to change that and help them achieve their ambitions so that they can continue to inspire – not just us – but many others too. In the case of Pip Hare, it was one of those partnerships that was meant to be. As soon as we saw her yacht in our local harbour and heard of her plans to take part in the Vendée Globe and other challenges, we knew it resonated with what we stand for and didn't hesitate to get on board with our sponsorship."
Speaking from her yacht from the middle of the Atlantic, Pip sent Codestone a video welcome message:
"I am really proud to have Codestone join the team as official partners for my Vendee Globe Campaign and am excited to share this incredible sporting event with them. It's incredible to know that the team at Codestone is inspired enough by the enormous challenge of this incredible sporting event to want to be part of the campaign and the fact that a global campaign was being hosted in their hometown of Poole makes it even better. I am excited to be sharing this journey with Codestone and in welcoming them to join to our growing family of genuine, successful and passionate sponsors." 
We look forward to being continually inspired by what Pip is setting out to achieve. We can't wait to cheer her on and have a first-hand account of her adventures as she takes on this incredibly tough but exciting challenge.