Microsoft's Price Rise 2023
Price hikes are happening all around us, from electricity to food, and in the last couple of months a wave of additional business costs. In January, Microsoft announced its global pricing alignment to include Microsoft 365. These pricing adjustments will take place bi-yearly (with the second anticipated around September 2023). Presently, for all UK corporate customers, this means an increase of 9% across the board from 1st April 2023.
What do you need to know?
If you are on a monthly commitment plan, this increase will take effect immediately as these restart on the 1st of each month. If you are on an annual commitment plan, the pricing change will take effect on the renewal of the term.
What can you do to mitigate the costs?
There are several ways to save. Firstly, if you are lucky enough to be renewing any of your Microsoft NCE licenses before 1st April, you can lock in the current pre-uplift price simply by committing to another year term upon renewal. This means you can defer the 9% uplift until next year.
Alternatively, if you have never used Microsoft 365 E3 before, you can secure a total 24% saving on the new E3 RRP by upgrading to E3 mid-term. Not only will you mitigate the 9% increase, but you will be taking advantage of a 15% off promotion for Microsoft 365 E3 licenses.
This 15% off E3 promotion is available until 30th June 2023, and is for eligible customers only.
However, if you are E3 or above already, if your licenses are not due to renew until after 1st April, or if you are not planning to upgrade mid-term to E3; then unfortunately you will be subject to this 9% rise.
It is an area worth exploring. To learn more, get in touch with our Microsoft experts.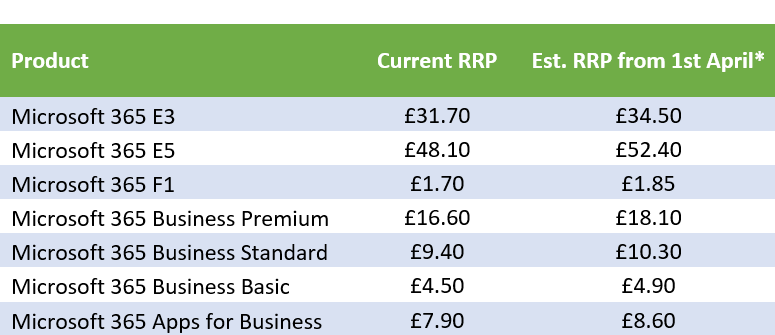 * – estimated total in GBP, subject to confirmation from Microsoft
What products will be affected by the consistent global pricing?
This is a complex area, so we have created a simplified list.
These are all products purchased via our Microsoft Partner Cloud Solutions Provider programme.
• Microsoft 365 E* / F*
• Microsoft Office 365 A* / E*
• Microsoft 365 Business Basic/Standard/Premium
• Enterprise Mobility & Security E*
• Microsoft Defender
• Teams Phone Standard
• Teams Phone with Calling Plan (all variants)
• Other Office Applications such as Visio Plan * and Power BI Pro/Premium*
* This is a range of licensing SKUs, e.g. Microsoft 365 E1, E3, E5, F1, F3 etc.
Going forward
Is it all doom and gloom? Well, there was a price increase this year, but we don't know what the rest of the year, or 2024 holds. In previous years some adjustments have led to reductions. All the adjustments will be based on the exchange rate to the dollar – so pricing may rise, reduce, or stay the same.
Pricing adjustments will only happen twice a year, however, it is good to note that this excludes Azure Plan on New Commerce Experience(NCE) consumption as these are priced in dollars and converted monthly to the local exchange rate.