It's not just about the technology, it's about the people. We want to bring you closer to just some of the people who work at Codestone to understand how they work with clients, what they are looking to achieve and what inspires them.
A Day in the Life of…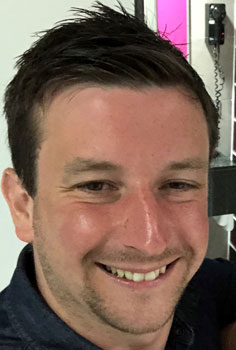 Liam Wasden
ERP Consultant, specialising in SAP Business One
Years worked at Codestone: 18 months


The role
As a SAP Business One Implementation Consultant, Liam picks up the baton from the pre-sales and project management teams and sets about implementing the solution that enables our customers to achieve the outcomes they signed up for. His role as a Consultant is to ensure customers have a positive SAP Business One and Codestone experience.
Background
Liam joined the SAP world soon after graduating in Business Computing and has worked specifically as a SAP Business One Consultant for almost ten years. He joined Codestone from another SAP Partner where his role was as both a consultant and a project manager rolled into one. That meant he was often spinning multiple plates simultaneously to keep his projects on track. Since joining Codestone, our dedicated project management team has allowed him to focus solely on his consultancy work.
"When I first started at Codestone I was given time to settle in, meet the respective teams and learn the Codestone way of working. Despite having experience of many previous implementations, the focus here was on integrating me in to the team and getting to know the processes rather than getting me in front of customers at the first available opportunity. It was a great way to set me up for success"

Goals
Liam's mission is to truly understand our customers' needs, how they work and what they are trying to achieve. He aims to show them how the system can improve their processes and save them time, resolving their pain points and ensuring the tech enables their business to achieve its objectives. He is involved throughout the project life-cycle from implementation through all stages to successful transition and go-live.
Approach
Knowing that there is a dedicated and accountable team for each stage of the implementation including pre-sales, project management, consultancy, development, integration, QA, and support gives Liam the confidence that projects are delivered to the highest possible standard.
"The pre-sales to consultant handovers are extremely thorough. I am given a checklist of all the customer requirements so there is no ambiguity or unrealistic expectations for the customer. This allows projects to start on a solid foundation of trust."
Throughout every stage of each implementation every department is friendly and helpful. If Liam requires assistance, be it clarification from pre-sales on a customer's requirement or from the 24/7/365 support team to fix an issue when he's working with a customer.
There is a true sense of team at Codestone as well as a culture of excellence. The QA department, for example, ensures that any configuration or new software for a customer has been tested thoroughly prior to any demonstrations or UAT. This has stopped those nervy moments that can happen when presenting new configurations or software to a customer for the first time.
The excellent knowledge base at Codestone means there is an expert in each area when you need clarification or confirmation on a requirement.
"No longer do I have to rely on the SAP forums and being unsure when responding to a customer", says Liam.
What does success look like?
Success for Liam is defined by customer satisfaction, getting the best solution for their needs and requirements and knowing that the implementation ran smoothly thanks to good communication, teamwork and trust.
It is also important for him to have a good work/life balance. This comes by having well-defined and realistic project timescales as well as a supportive team. At Codestone there is an emphasis on providing a supportive environment – from colleagues, management and board alike.
"If something comes up at home for example, I can make a request to project management and they will do their level best to help me solve the problem."
For Liam it is important too to know that if he needs to learn something new about Business One or a third-party product that will benefit a customer, Codestone will actively encourage him to do so. Knowing that we will make room in his schedule for dedicated learning time is as important to him as having a generous package and bonus scheme.

What inspires you?
"Being part of a team of people who really know their stuff, work well together and are committed to helping businesses transform and grow."
The values-led culture and the people at Codestone make it an inspiring place to work. Proof of that, is the very low staff turnover which ensures the team grow and evolve together, minimising unnecessary disruption and changes to project teams. It's not all work, work, work.
There are some great social events too! The Christmas party – where partners are welcome – the Codefest summer festival and plenty of team socials in between. When you are inspired by the people you work with, it's a pleasure to spend time with them outside of work too.
What have you learned in this role?
"If you are a SAP Business One Consultant and you find yourself thinking: 'Surely things can be done better than this!?', then I'd say to you that Codestone is the place to come and be part of that."
What's next?
Liam gets a buzz around working in a firm where it is the people that make the difference. He is looking forward to sharing his knowledge and the Codestone way of working as the team of SAP Business One Consultants grows.