In this modern era, employees are extremely mobile and need to access networks from both company and personal devices, ranging from laptops, PC's and Macs, to thin clients and tablets from locations around the globe. Many organisations are therefore looking to deploy a fully flexible mobile solution that allows for expansion and contraction with limited upfront costs and maximum agility. So, what is the answer?
Desktops in the Cloud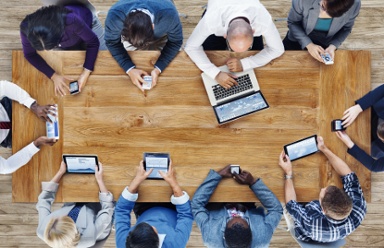 Desktop as a Service (DaaS) is a cloud service in which the back-end of a virtual desktop infrastructure (VDI) is hosted by a cloud service provider. This is ideal for SMBs as DaaS provides an accessible pay-as-you-go model that enables organisations to easily scale up or down, and shifts capital expenditure (Capex) into a predictable monthly expense.
Moving to a cloud-based service basically eliminates the majority of hardware costs, whether the organisation is reliant on in-house servers or the use of a data centre. The managed service provider hosts all of the IT and is also responsible for the subsequent management and maintenance.
Provisioning IT in this way gives organisations, especially SMBs, the benefit of enterprise-class services for a fraction of the cost, with little or no capital expenditure and full time support. The cost per user can be dramatically reduced in this scenario.
The Full Monty
For example, consider how much it would cost in house, as well as the hassle, to provide the full Microsoft Office suite, a couple of other applications, such as Adobe Creative Suite and QuickBooks, as well as some other business critical applications. Add to this a few gigs of storage, full back-up and continuity, access to data on any device and unlimited 24×7 support, and the costs would soon mount up. It would require significant investment in hardware, software licenses as well as IT staff for maintenance.
With DaaS, however, all of this can be included in one package for a set fee, and easily scaled up or down on demand. Organisations can also try out new software and test that it works the way that it wants before rolling it out to each user.
DaaS allows organisations to centralise and stabilise application deployment, and provides employees with a great deal more freedom. Users can easily move between sites and access their entire desktop from any device, in any location and over any connection. It is the future of IT and provides organisations with a more cost effective, flexible and secure working environment.