Technology is fundamental to doing business today and IT departments can have a significant effect on whether a business succeeds or not. Devising projects and rolling out new developments can provide a competitive advantage, foster innovation and improve workflow processes. The head of IT, whether this is a CIO, CTO, IT manager or Technical Director, therefore needs to have a strong skillset to be able to perform these tasks and steer the organisation in the right direction.
1. Establish a Business Budget and Strategy
IT projects and solutions perform numerous business processes to try and increase revenues, improve efficiency, enhance customer service and reduce expenses, and therefore need to be stable, resilient and capable of delivering defined objectives. In order to achieve this, an overriding budget and strategy needs to be established and agreed by all stakeholders. It will then be possible to measure the activity and results on a regular basis and generate reports that highlight progress, reveal weaknesses and expose new opportunities for future growth.
2. Build a Loyal and Competent Team
As with any line of business, building a competent team that you can rely upon is essential. The team has to have depth to be able to cope with the constantly changing technical advances and challenges. They also have to be able to work as a team, so morale needs to be kept high. It is worth spending time and money developing your people to achieve both of these factors. Learning will be enjoyable for your employees and help them stay ahead of the curve.
3. Maintain Your Own Technical Knowledge
As the head of the IT department you should maintain your own technical skills and make sure that you are up to date with all the latest technological trends and products. Not only will this show leadership knowledge, circumstances may dictate that you have to help out or cover for an employee that is ill or has suddenly quit, so you will need to have a basic understanding of that skillset. This will also help if you are discussing new projects with vendors or suppliers – the ability to dictate what you want on your own terms.
4. Acquire Business Knowledge
The IT department can have a significant impact on the way that a business operates and the bottom line. Establishing best business practice by implementing the best hardware and software infrastructure can be crucial to a company's success. This needs to be carefully thought about. You shouldn't implement technology just because it's new and shiny. You need to trial extensively and evaluate the benefits and the cost.
You therefore
need to have a good knowledge of the business and work closely with the CEOs, Managing Director, Financial Director, etc. to establish common goals and requirements. Are you looking into the future, beyond the fundamental tasks? Would it be worth taking a smart risk to move the company forward?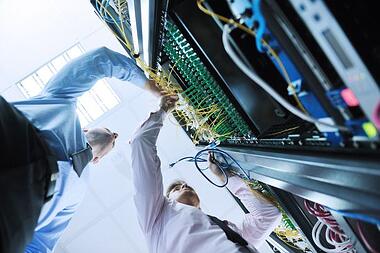 5. Put Customers First
Whether they are internal clients or external users, it is worth trying to understand what your customers actually need and want. This could dictate the IT strategy that is required and the projects that need to be implemented. A new software implementation, for example, could totally transform the way that your company operates internally. Improved productivity could lead to an improvement in efficiency and a reduction in costs. Alternatively, a new e-Commerce site could help improve the customer experience and lead to an increase in sales. View your technology projects from the perspective of a customer and it will help the business succeed.
6. Communicate in Business Terms
One of the biggest headaches that any head of IT faces is convincing the FD or CEO that upgrades are required and that the company needs to spend money on technology or new infrastructure. The only way to achieve this is by discussing this in business terms. What will the end result be? How will it improve the business? Effective IT managers will be able to communicate with a whole range of people – from employees and management to customers and vendors – as long as they refrain from using too much technical jargon.
7. Seek Advice & Discussion
Don't be afraid to discuss ideas and problems with external sources. Establishing a network of people that you can trust can be invaluable for bouncing ideas off. This could range from other people in a similar position to solution providers or actual vendors. They may have had a similar experience and found a solution or could provide you with a different perspective and instigate a new approach that would not only be beneficial to the company, but also to your own progression.