SAP
Analytics Cloud
The only Analytics solution that brings together Business Intelligence, Planning, and Predictive Intelligence in the Cloud.
Analyse, Plan and Predict all in one fully Cloud platform

Low cost with fast return on investment

Automatic updates and roadmap

Fully secure

Integrates with Microsoft Office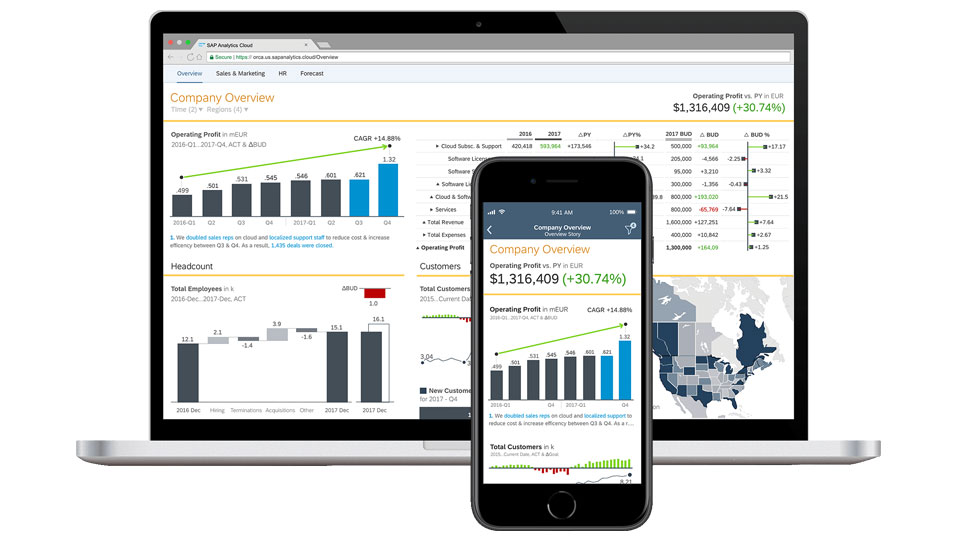 At a Glance
What is

SAP Analytics Cloud?
SAP Analytics Cloud is a fully cloud dashboarding and reporting tool. It is the only analytics solution that brings together Business Intelligence, Planning, and Predictive Intelligence in the Cloud. The tool is for organisations of all sizes and industries.
Frequently Asked Questions
What our Clients commonly ask about
SAP Analytic Cloud
What makes SAP Analytics Cloud different from other cloud analytics solutions?
SAP Analytics Cloud is unique in the market as it is the only analytics solution that brings together Business Intelligence, Planning, Predictive and Consolidation in the Cloud. Only SAP Analytics Cloud delivers the full picture.
SAP Analytics Cloud is also powered by artificial intelligence and machine learning technology, giving you augmented, real-time and predictive analytic features. It is also available as a mobile app for iOS devices, meaning you can access your dashboards anywhere, anytime.
What types of data sources can I connect to with SAP Analytics Cloud?
SAP Analytics Cloud can connect to various on-premise and cloud data sources including SAP HANA, SAP BW, SAP BPC, OData, Google BigQuery, SQL, and more.
How often is SAP Analytics Cloud updated?
SAP Analytics cloud has a quarterly release cycle. You can find the latest product release information and roadmap here.
What does SAP Analytics Cloud Offer?
Bringing together of consolidation, analytics and enterprise-wide planning under one solution, with unique integration to SAP and Non-SAP data sources.
Brings together consolidation, analytics and enterprise-wide planning under a single cloud solution, which can be leveraged alongside machine learning and predictive analytics.
Is SAP Analytics Cloud SaaS?
Yes, SAP Analytics Cloud is Software as a Service.
Is SAP Analytics Cloud difficult to learn?
No, SAC is a self-service tool, that involves very little IT input. We always provide in-depth enablement as part of project implementation. So the tool is very much geared towards the business user.
Is SAP Analytics Cloud a data warehouse?
No, SAP Analytics Cloud is an EPM tool that allows consolidation, planning and reporting.
Benefits of SAP Analytics Cloud
SAP Analytics Cloud is a

fully cloud dashboarding and reporting tool
Access anywhere, anytime

Anytime, anywhere, any device. Access SAP Analytics Cloud using various devices, including laptops, PCs and smart phones. Easy-to-reach for everyone in the team.

Beautiful dashboards including IBCS/Hichert

Data story-telling and auto generated visual exploration. Data visualisations and highly customisable dashboards. Business owners and users can access all relevant data displayed attractively and intuitively.

Interactive analysis & Smart assistants

Connect SAP Analytics Cloud users in a chat or using comments to make the decision-making process more accurate. Leverage the Smart Assist technology to give your team a way to find answers and understand what drives your business in less time.

Comprehensive planning capabilities

SAP Analytics Cloud converges machine learning and predictive analytics-based features to help you plan accurately, quickly. Effortlessly monitor the plan in real-time, and create strategic alignment across all departments. Make better end-to-end planning decisions utilising features such as financial modelling, automated reporting, allocations, scenario modelling and intelligent insights.

SAP Analytics Cloud predictive analytics

Gain a proactive, forward-looking approach rather than a reactive one. Stay agile and anticipate your business needs with SAP Analytics Cloud's own inbuilt machine learning algorithm. Create and compare predictive models, determine patterns in your historical data and gain a competitive advantage.

Powerful and live integration with SAP; e.g., SAP BW/4Hana

With its seamless integration capabilities, SAP Analytics Cloud allows businesses to make all changes in one, single location in the cloud. Users can now achieve value from their data without disrupting current processes or performing large data migrations.
Business content for LoBs and Industries

Prebuilt best-practice business content packages. End-to-end customizable packages that are designed to connect with SAP data sources across lines of business. Industry best practices from SAP business process experts for analytics and planning.

Connect with Microsoft Office

SAP Analytics Cloud Microsoft Office add-in enables you to use all core analysis functions. Analyse and visualise your data directly in Excel and enrich your formulas and functions.
Features
SAP Analytics Cloud
Management Reporting
SAP Analytics Cloud builds reports, with data coming from all over, capturing insights in real-time from your business activities, budget forecasting data, and even massive datasets.

Break down silos
Get insights fast
Mobile access
Real time analytics and data
Data visualisation
Planning
Experience collaborative enterprise planning at its best. No more silos. No more endless consolidation efforts. Leverage SAP's end-to-end solution with powerful features to unite your organization with SAP Analytics Cloud for planning.
Make end-to-end decisions with confidence, in one single workflow from planning to insights. Drive better business outcomes and gain full alignment across all business areas with extended planning and analysis in SAP Analytics Cloud.
Streamline your process with predictive analytics workflow, what-if scenarios, value driver trees, allocations, and advanced calculations.

Annual Budgeting
Sales / revenue planning
Capital expenditure planning
Headcount / staffing
Expense planning
Cash flow planning
Planning is for all- i.e. HR, Marketing, Supply Chain, Manufacturing,
Sales – not just Finance
Predictive Analytics
Analytics leverage data that is managed, mined, cleansed, and transformed, to anticipate trends and outcomes. Analytics looks forward,
using data mining, modelling, and machine learning to answer the 'why' – to make more accurate predictions about the future.
Analytics leverage these insights to support businesses in anticipating and predicting trends and outcomes, steering organisations to make better decisions, stay competitive, and become more agile.

Predictive & Conversational Analytics
Data Story-telling and Autogenerated Visual exploration
Statistical Modelling and Data mining
Contextualise Insights – 'Why Insights'
Data Alerts
Business Intelligence
Business intelligence and augmented analytics capabilities help you to evaluate and predict business outcomes. Now you can reduce uncertainty and confidently drive insight beyond human bias in one simple cloud solution.
Automatically receive strategic insights with SAP Analytics Cloud's embedded machine learning technology–helping you go from insight to action in a fraction of the time. Avoid agenda-driven decision making by unveiling the true story of what is driving your business.
Answer business questions with easy, self-service business intelligence capabilities. Interactively work with your information and gather meaningful insights.

Key Performance measurement & Analysis
Data Visualisations & Dashboards
Interactive & Collaborative Reporting
Data Blending
Mobility and Decision making platform
Better decision-making
Create performance benchmarks
Spot market trends
Improve compliance
Consolidation
Get Greater Control of Your Financial Close with Codestone's own INSIGHTS for Planning & Consolidation. The only Consolidation solution on the market that integrates with SAP Analytics Cloud for full Consolidation functionality!
Perform complex consolidations, create regulatory reports and store all data to be faster, more accurate and compliant. Collect, audit and store all financial data and gain deeper insights into your financial performance with feature-rich management reporting. Gain visibility into the progress of tasks by user and region.

Reduce time to close
Break down silos
Intercompany matching / reconciliation
Intercompany eliminations
Management consolidation and reporting
Legal / statutory consolidation
Data mapping / submission
Learn more about Codestone's INSIGHTS solution
Forecasting
Strengthen your business's future performance with forecasting and future outcomes.

Rolling forecasts
Integrated financial statement modeling
P&L
Balance sheet
Cash flow
Scenario modelling
Financial Reporting and Analytics
Better insights lead to better outcomes. Improve financial planning, budgeting, and forecasting with one trusted source of information.

Ad hoc reporting
Variance analysis
Driver analysis (industry, growth, capacity, etc.)
Root cause analysis
Extended Planning and Analysis
SAP Analytics Cloud is not a FP&A tool. It breaks down silos and extends planning beyond the realms of finance It is a highly versatile and flexible dashboarding and reporting tool. With SAP Analytics Cloud, planning is for everyone, with use cases in:

Finance
Operational
Sales
Supply Chain, including demand, inventory, supply,
Capital Expenditure
HR
Revenue Planning
Cost Planning
Financial Statement (P&L, balance sheet, cash flow)
Liquidity Management
SAP Datasphere
SAP Datasphere enhances Data Warehouse Cloud with powerful data services:
Establishes a unified data experience on SAP Business Technology Platform.
Integrates various data sources for comprehensive understanding and decision-making.
Supports an open data ecosystem with multiple vendor and external data product integrations.
What is SAP Analytics Cloud

for Planning?
What is SAP Analytics Cloud

for Business Intelligence?
Customer Success
Julie Forsythe
Financial Controller
–
Mainetti
Our CFO and CEO can view our Monthly Management Report and drill down with a click of a button and achieved what we've achieved so far, with little to no disruption to the group.
Bianca Straun
Financial Controller
–
DOHL
They've been really patient and have supported us throughout. Working with them was easy – they knew what they were doing, what we needed, and even took the time to answer questions outside the scope of the project.
Alex Graves
Group Financial Controller
–
Big Bus Tours
Our recent engagement has been quick, efficient, and consistent. They understand our business and our consolidation needs. They've made things easy, and a great experience.