SAP
Concur Invoice
A cloud-based solution for any size of business to automate your expenses, travel and invoicing processes
Capture, log and claim expenses in real-time from any location with the mobile app

Manage expenses and budgets effectively and speed up processing of claims

Save valuable time, money and resources by automating the entire invoice management process from capture to pay

Better forecast cash flow and identify additional supplier savings with powerful, easy-to-use business intelligence tools
At a Glance
What is

SAP Concur Invoice?
SAP Concur Invoice reduces invoice processing times by integrating invoices with payment data such as travel and expenses, into a single system. It gives you a complete view so you can manage all your business spending.
You can easily capture and automate all your paper and electronic invoices, then integrate those payments into SAP Concur Invoice. The mobile app also lets you access it anytime and anywhere.
Features
SAP Concur

Invoice
SAP Concur Invoice automates vendor invoice management to eliminate paper, reduce tedious manual tasks, prevent costly errors, and give employees valuable time back. It can integrate with your existing ERP or accounting system and connect with solutions from other vendors across the procure-to-pay lifecycle, and track and control payments to vendors enabling you to take advantage of early payment discounts.
Automation

Your Accounts Payable is completely automated and can be integrated into the full SAP Concur suite for Invoice, Travel and Expense.

Payment Control

Your invoice payments can be tracked and controlled, and you have the capability to capture early payment discounts.

Eliminate Paper Invoices

Capture e-invoices with OCR technology to create electronic files for your paper-based invoices.

Reduce Manual Effort

Save time with the SAP Concur 3-Way Match for matching invoices, POs and goods received.

Gain Visibility

Gain visibility of spending by attendees at meetings or events.
We help you achieve the benefits that
SAP Concur Invoice can deliver
As the leading SAP Concur partner in the UK and Ireland, we'll help you automate your invoice processes, delivering real savings and enabling you to take control of spending and provide decision makers with the insights they need.
Real-Time Insights

Consolidate spend from invoices, travel and other expenses. Get forward-looking, real-time insights.

Reduce Manual Effort

Automate your invoice process, from authorisation to supplier payment. Empower business leaders to better predict and manage cash flow.

Increased Visibility

Multiple legal entities can be set up in a single database. You have full control and visibility across your organisation.

Scale as You Grow

Scale your AP to manage larger volume. without adding staff as your business grows. Grow your business without adding staff.

Control Payments

Take control of payment timings. Take advantage of early payment discounts.

Maximise Spend Rebates

Manage Days Payable Outstandings (DPO) Capitalise on spend rebate opportunities resulting in new sources of income.
Stay in the know
Bringing you the

Best of Both Worlds
Take your organisation beyond automation and gain better visibility and operational control.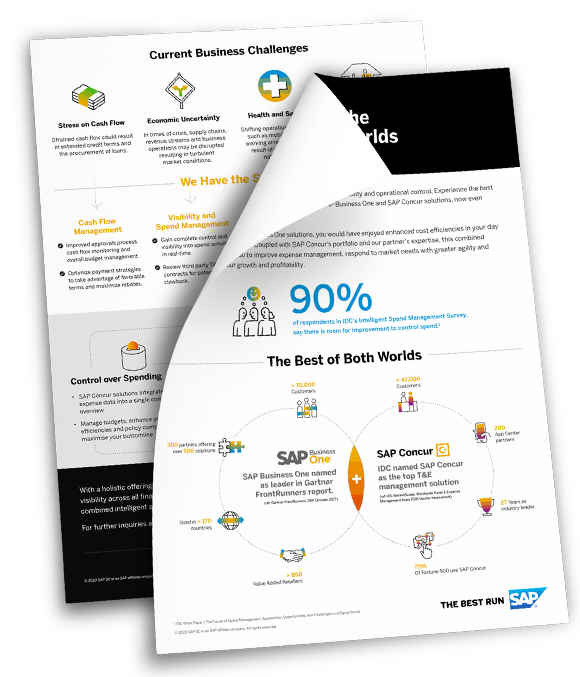 Fast Track your evaluation by chatting to one of our experts.
SAP and IT Infrastructure Support
Supporting you

all the way
Codestone is SAP's leading partner in EMEA North for SAP Concur. Winner of the SAP EMEA North Best Performance Award, we have a great deal of experience across multiple industry sectors, delivering rapid projects alongside complex international rollouts.
Our successful implementation methodology and systematic approach ensures end-to-end project success. After go-live we offer 24x7x365 SAP and IT infrastructure support, plus the industry's broadest Cloud IT and Managed Services portfolios, to ensure you are always up and running and importantly, future-proofed.
See our Support Services