What is
Enterprise Resource Management?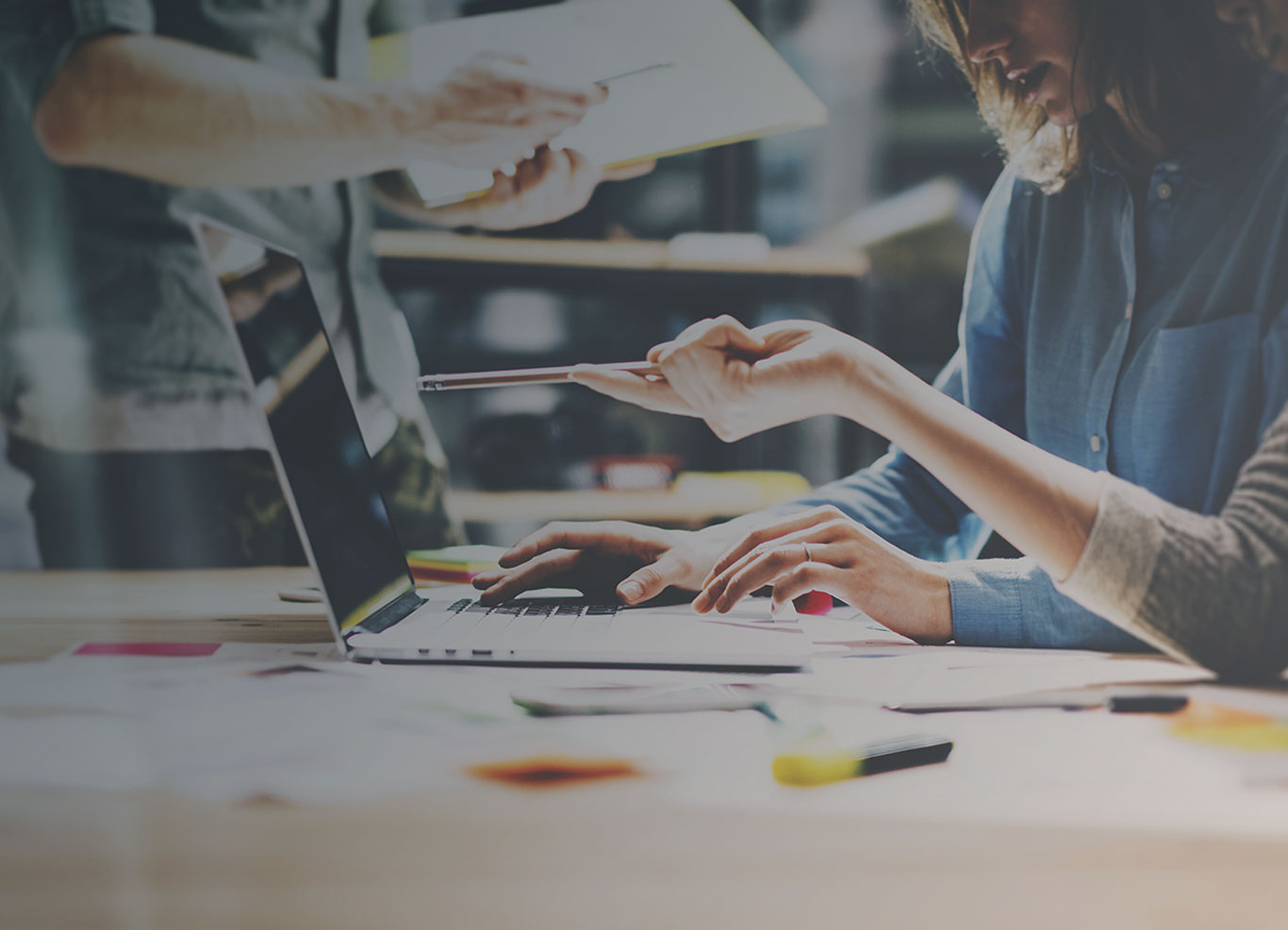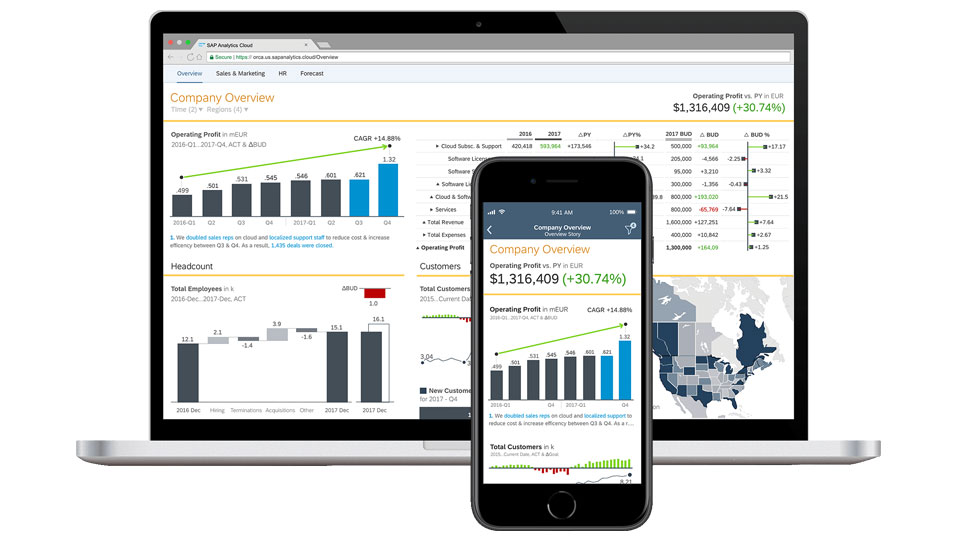 At a Glance
What is

ERP?
ERP stands for enterprise resource planning. But what does it mean? The best way to understand ERP is to think about the core processes that run a business: Finance, Procurement, Marketing, Sales, HR, Manufacturing, Services, and more.
ERP systems have been empowered by the latest technologies, like artificial intelligence and machine learning to provide intelligent automation, improved efficiency, and instant insight across the business – all done on the cloud.
At the most basic overview, ERP helps manage all these profiles in an integrated system. However, the ERP landscape today is a lot more complex than it was decades ago.
Today's ERP software also vastly improves connectivity between internal operations and partners and networks around the world, giving businesses collaboration, agility, and speed to help them stay competitive.
ERP is a software system that helps you run your business, and is made up of processes in:

Benefits of ERP
What are the

key benefits of ERP?
Higher Productivity

Streamline and automate your core business processes to help everyone in your organisation do more with less.

Deeper Insights

Eliminate data silos, gain a single source of truth, and get fast answers to mission-critical business questions.

Accelerated Reporting

Fast-track business, financial, and management reporting and easily share results. Act on real-time insights and improve performance.

Lower risk

Maximise business visibility and control, ensure compliance with regulatory requirements, and predict and prevent risk.

Simpler IT

By using integrated ERP applications that share a database, you can simplify IT and give everyone an easier way to work.

Improved Agility

With efficient operations and ready access to real-time data, you can quickly identify and react to new opportunities.
Frequently Asked Questions
What you need to know
about ERP Systems
ERP is often described as the enterprise's "central nervous system." It provides automation, integration, and intelligence, to run all the day-to-day operations of the business. Much of an organisation's transactional data resides in the ERP system, giving the business a single source of information.
"The global enterprise resource planning (ERP) software market is forecast to grow to around 100.7 billion U.S. dollars by 2025." (Statista)Different parts of the business benefit differently from having an ERP.
ERP systems are made up of integrated modules that talk to each other and share one database. ERP modules focus on a single business area but work together using the same data to meet the company needs. The core business functions like Finance, Accounting, Procurement, HR, Sales, Logistics, and Supply Chain make up the popular modules. Organisations can choose which modules they require and can add on and scale when they want. For example, a company may only require Finance, Procurement, and Sales – but not yet have a need for Marketing or Logistics.
ERP software also supports industry-specific requirements as part of its core functionality or application extensions that integrate with the solution. ERP systems can be purchased using a cloud subscription model known as software-as-a-service (SaaS). Alternatively, they can be bought on a licensing model.
What are the types of ERP deployment?
Modern ERP systems are deployed in a public or private cloud, on premise, or in various hybrid scenarios that combine environments.
We will discuss with you the benefits of each to help you identify the ERP deployment option that makes the most sense for your business.
What is ERP in the Cloud (or Cloud ERP)?
ERP can be delivered on the cloud, which means the software is hosted in the cloud and delivered over the Internet as a service that you subscribe to.
The responsibility of regular maintenance, updates, and security belongs with the software vendor, freeing you time and effort. Today, the cloud is the most popular deployment method for many reasons – including lower upfront costs, greater scalability and agility, easier integration, and much more.
Many businesses are modernising and upgrading their on-premises ERP systems to the cloud. This requires careful planning of the ERP upgrade and thoughtful process of evaluating ERP software and deployment options.
An example of Cloud ERP would be SAP Business ByDesign.
On-premises is an established model for deploying your ERP where it is installed in your data centre at your business site. You or your Managed Services Provider, like Codestone, would be responsible for maintenance, updates, and security.
An example of ERP on premise would be SAP Business One.
For organisations that want both cloud and on-premises advantages, they can opt for the hybrid cloud ERP model. This is where some of your ERP applications and data will be in the cloud and some on-premises.
An example of ERP Hybrid would be SAP Business One hosted on Microsoft Azure or Codestone Cloud.
Is my SME company too small for ERP?
No company is too small to already future-ready itself with an ERP system. An ERP software for small businesses can help you move beyond spreadsheets and improve efficiency in every part of your business. Small business ERP tools are typically in the cloud, deploy rapidly, and built for scale.
What should I be looking for in an ERP system for a mid-market company?
ERP software for mid-sized businesses can help your company get to the next level with analytics, fast deployment, and best practices for all your core business processes. Cloud based modular ERP systems like SAP Business ByDesign are a popular and optimal choice for mid-market companies with complex processes or ambitious growth plans to help you better streamline and connect to all your departmental functions.
What are the ERP advantages for large enterprises?
Large companies with global or subsidiary operations need a robust, market leading ERP with embedded AI, machine learning, and analytics – and intelligent automation to transform business models and processes.
How do I integrate my ERP system?
The ERP systems of today integrate with other applications and data sources,
such as HCM, ecommerce, CRM, and other ERPs. ERP integration gives companies a unified view of information from different systems, increase efficiency, customer experience, and collaboration across teams and partners.
Modern ERP systems are more open and flexible than they were decades ago and can easily integrate with a wide range of software's using connectors or customised adaptors. These might include APIs (Application Programming Interfaces), ESBs (Enterprise Service Buses), or iPaas (integration platform-as-a-service-). iPaaS as you can guess is a cloud-based approach and popular for modern businesses.
It synchronises ERPs with other SaaS solutions. It requires little coding, is flexible, and inexpensive. There is a range of benefits to iPaas, such as automatic API generation, ML data integration, IoT (Internet of things) network integration, prebuilt content, and more.
What is the total cost of ERP?
The cost of ERP depends on the software vendor, the modules selected, and the deployment method.
Cloud ERP costs less than on-premises ERP because you do not need to spend money on the physical equipment or the in-house IT team (or Managed Service Provider) to maintain it. Instead, the software vendor manages maintenance, updates, and more, charging the customer an annual or monthly subscription fee, typically based on the number of users.
When calculating return on investment and cost of ownership of a new ERP, the workforce costs are just as important as the software you choose and the cost to implement it. Going on the cloud or going hybrid means that new factors need to be considered. Things like maintenance, downtime, recovery, privacy, IT costs, are all important considerations.
ERP Use Cases
Procurement and Sourcing
Procurement modules help businesses source the materials and services required to manufacture their products to sell. It centralises and automates purchasing requests, quotes, and more, as well as creating contracts and approvals. It's great because it can prevent underbuying and overbuying, improve supplier negotiations, and connect with buyer networks.
Inventory Management
An inventory management module displays real-time inventory levels and updates on stock that's en route to the warehouse. Your operations team is able to compare available inventory to sales data to determine whether the business should place any purchase orders (POs). Additionally, the warehouse team can fulfill more orders per day because the inventory management application shows the exact locations of all items.
Human Resources Management
ERP systems also often include an HR module that manages time, attendance, and payroll. You can even build add-ons to deliver more robust HR functionality – from workforce analytics to employee experience management.
Finance
The finance module is the core of most ERP software. It manages the general ledger and automates key financial tasks. It also helps finance teams track accounts payable and receivable, close the books quickly and efficiently, generate financial reports, comply with revenue recognition standards, mitigate risk, and more.
Manufacturing
Manufacturing modules are some of the most popular ERP features. It helps companies simplify manufacturing processes and stay on top of demand. This typically includes functionality for material requirements planning, production scheduling, manufacturing execution, quality management and more.
Logistics and Supply Chain Management
The supply chain module tracks the movements of goods and supplies throughout the organisation's supply chain. You get real-time inventory management, warehouse operations, transportation and logistics, and can improve visibility and supply chain resilience.
Service
In an ERP, service modules help companies deliver reliable service to customers. These can include tools for in-house repairs, spare parts, field service management, and service-based revenue streams. It also comes with analytics to help service reps and technicians rapidly solve customer issues and improve loyalty.
Sales and Marketing
With an ERP application for sales and marketing, reps can turn quotes into sales orders in a matter of minutes and then send system-generated invoices to customers. The sales and marketing teams can see where any customer is in the sales cycle to determine the best next steps. Marketing tools enable the distributor to import lists and target new prospects with emails and ads across multiple channels, which leads to a 10% bump in annual revenue.
Project Management
A project management ERP module can track costs and resources for individual projects—critical for accurate billing – all this information by project. In addition to showing the status of projects, the module tracks consultants assigned, hours logged, travel expenses and communications with the client. When a project hits a certain milestone, the project management application automatically creates a bill and sends it to the client.
Ecommerce
An ecommerce ERP module turn an informational site into an online store that can process transactions. The module has user-friendly tools that allow the marketing team to list new items, change product content, quickly jump on ecommerce trends and update the site's look and feel. By choosing an ecommerce application that's unified with the ERP, there's no need for integrations to third-party solutions, like an order and inventory management solution or a CRM—all order, customer and payment information automatically flows into the ERP.
Customer Relationship Management (CRM)
A CRM ERP module offers an abundance of features. For example, when a customer or prospect fills out a form on its website, that information flows into the CRM, which generates a notification so a sales rep can follow up promptly. The CRM centralises purchase histories for all customers, allowing the business to target them with relevant products, like a new line from a certain brand or accessories. When customers have questions about or issues with a product, a customer service agent can resolve the situation more quickly because he can see all previous interactions with the buyer.
ERP Solutions
Best-of-Breed

ERP Technology Solutions
SAP Business One
Designed for Small and Medium Businesses
SAP Business ByDesign
Fully Scalable Cloud Solution for Midsize Businesses