INSIGHT
for Planning & Consolidation
Eliminate data silos. Reduce close cycles. Get better insights. Accelerate business growth.
8 – 12 week implementation

Cloud–based technology

Encompasses years of knowledge in systems implementation

Pre-defined input and reporting templates

Streamline your financial close process

35% reduction in month-end processing
SAP Intelligent Enterprise Partner Ambassador
SAP EMEA North Partner Excellence Awards – New Business Category 2022
SAP EMEA North Partner Excellence Awards – Innovation using SAP Analytics Cloud 2021
At a Glance
What is

INSIGHT for Planning & Consolidation?
In today's competitive and volatile business environment, finance teams are under immense pressure. They must close the books faster, quickly measure business performance, and drive the organisation forward based upon agile planning.
Our INSIGHT for Planning & Consolidation package, powered by SAP Analytics Cloud empowers Finance teams with a single integrated view of their business performance.
It allows them to take data-driven decisions more quickly and with greater confidence.
It delivers a comprehensive, out of the box cloud solution that delivers Planning, Financial Consolidation, Reporting, Analytics with Predictive capabilities whilst encompassing seamless integration with SAP Business ByDesign and SAP Business One.
It is deployed in eight to twelve weeks and thus delivers a rapid ROI.
Features
With INSIGHT for Planning & Consolidation you can empower your Finance team quickly and achieve a single standardised best practices source of data available to all.
Consolidation

IFRS & GAAP Compliant global business view in a single place to reduce errors, duplications, and processing times by up to 80%

Budget

Templated budgeting and forecasting producing fast accurate plans with typical savings of around 20% in planning effort

BI & Predictive Analytics

Embedded analytics to enhance the best decision making and plan based on accurate data, so that you can focus on profitability and performance

Management Reporting

Consolidated financial statements and Management packs in real-time on any device. Save up to 50% in time in producing accurate reports and dashboards.

Forecast

Accelerated and accurate views and what-if scenarios with typical time savings of up to 20%

Flash

Achieve faster and more accurate financial automated closing and reduce transactional processing overheads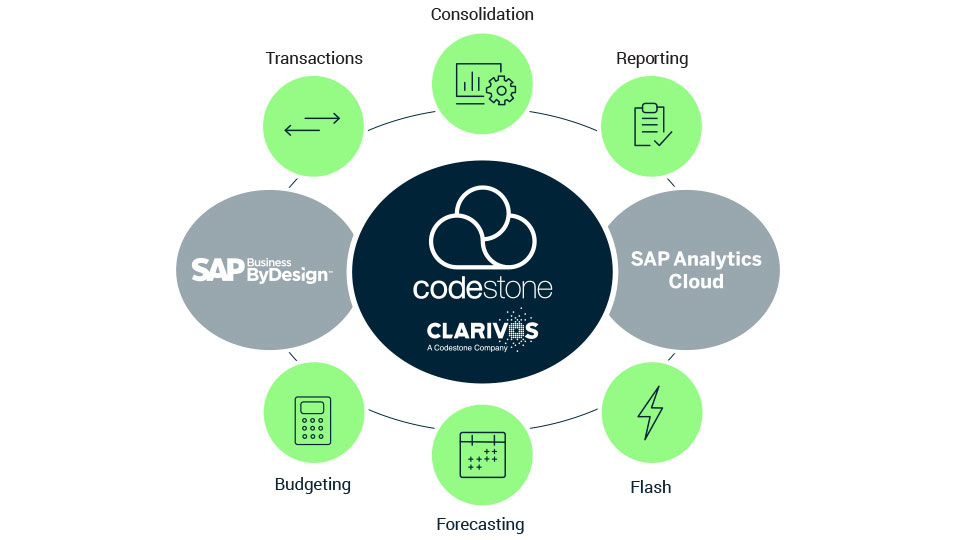 Leverage our domain expertise for the Office of CFO with the INSIGHT for Planning & Consolidation.

More so:
Plug-and-play Data Integration with SAP Business ByDesign
Out-of-the-box Consolidation functionality
Management Reporting packages
Forecast & Budget templates
Compatible with upgrades
Low cost, minimal risk, and quick to deploy
Optional Application Support
Stay in the know
INSIGHT for Planning & Consolidation

Fact Sheet
Powered by SAP Cloud technology, our solution delivers planning and consolidation analytics with predictive capabilities, and integration to transactional accounting systems.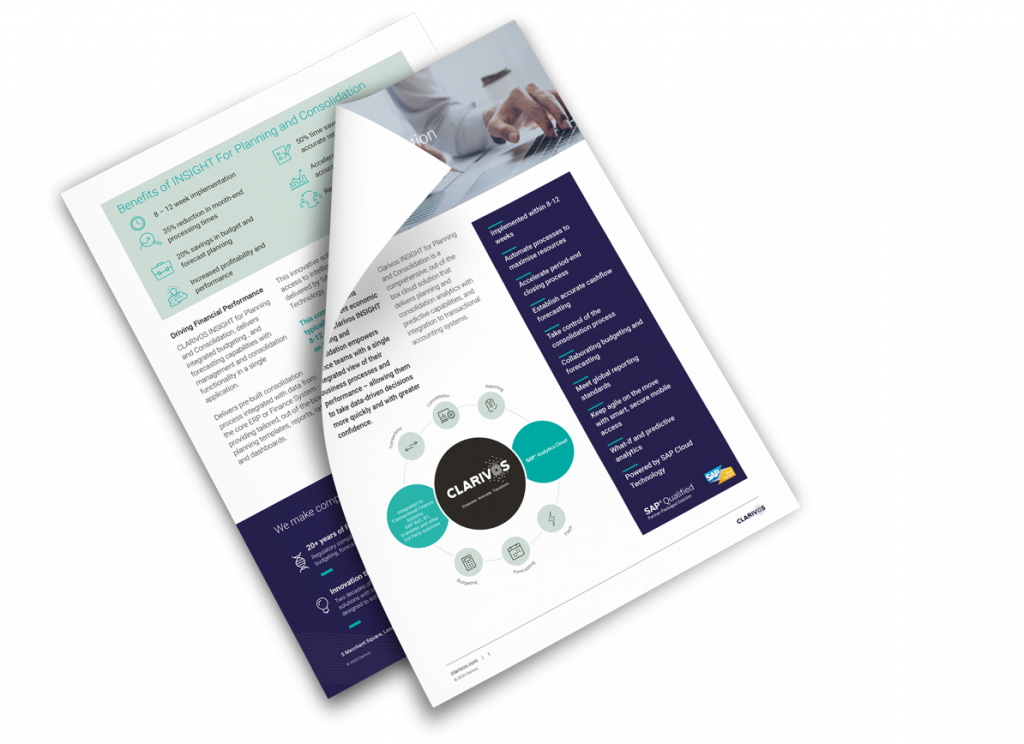 See INSIGHT for Planning & Consolidation in Action
Demo 1
Management Reporting

Intro to Consolidation, Planning & Forecasting with SAP Analytics Cloud, demonstrated by Simon Lewis Head.
Demo 2
Consolidation

See how SAP Analytics Cloud performs complex consolidations, creates regulatory reports and stores all data to be faster, more accurate and compliant.
Demo 3
Planning

Learn how SAP Analytics Cloud uses predictive intelligence to anticipate trends and outcomes, helping businesses make better decisions, stay competitive, and become more agile.